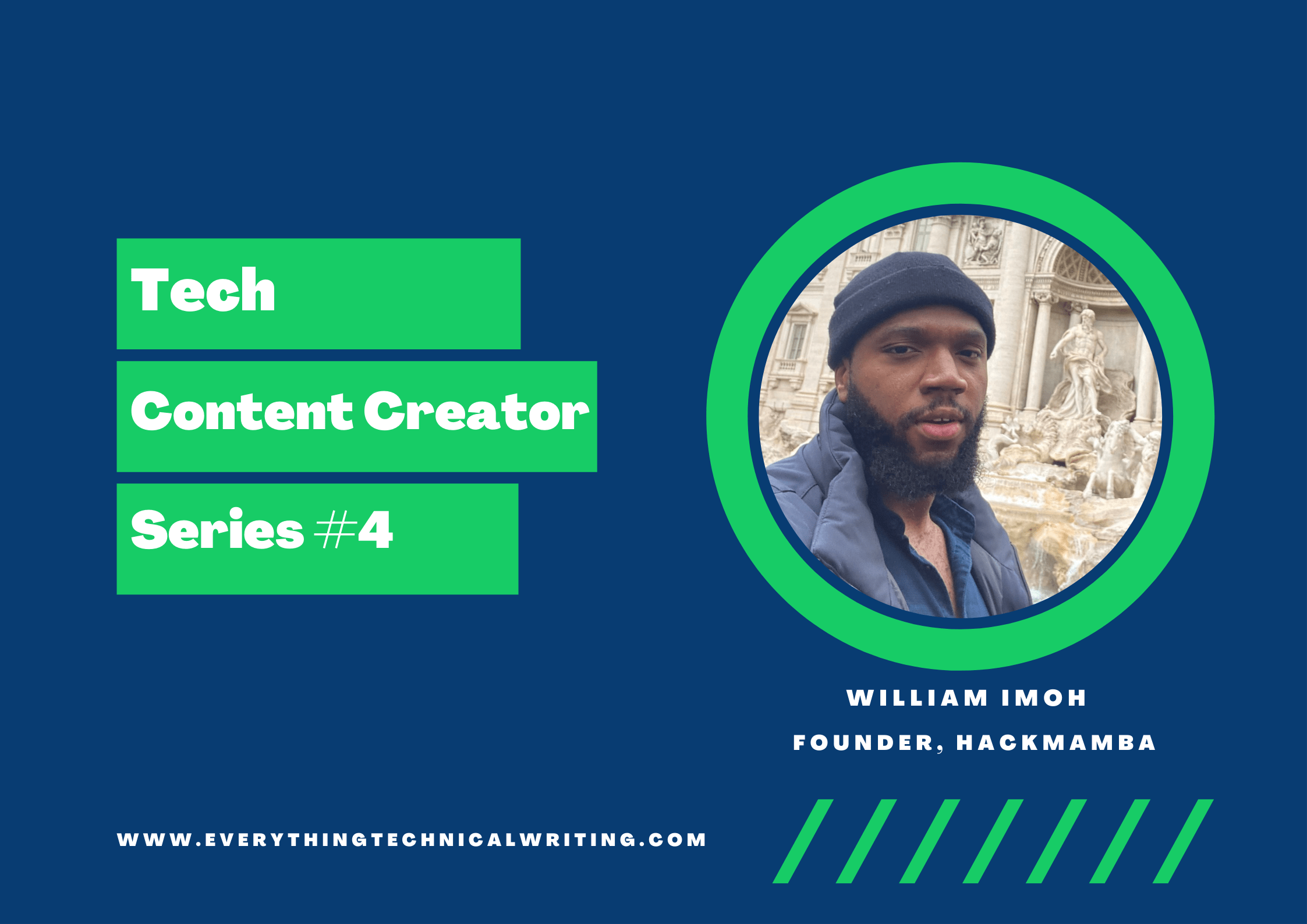 The Tech Content Creator Series is a monthly interview series in which I interview people in technical content creation roles (i.e. technical writers, documentation engineers, developer advocates, and what have you) about their careers. My hope is for their stories to inspire, motivate, and hopefully impact you.

William Imoh (popularly known as iChuloo) is currently a Technical Product Manager at PotterBuddy. Notwithstanding, his career was built on the foundations of Technical writing. William is also the founder of Hackmamba, a young technical content marketing agency that just crossed $10K in author payouts.
In this episode, he talked about how the act of volunteering and technical writing gave him a start in his career. He also shared about how he runs his young technical content marketing agency, as well as some valuable advice for freelance technical writers or anyone looking to tow the same path.
Enjoy!
---
Linda: Welcome, William. So, I researched you and found out that you've been a bit of everything: product manager, software engineer, developer advocate …
William: Yea. I do everything except design.
Linda: Interesting. Tell me how you got into tech; your journey up until now.
William: I studied chemical engineering at the university. During the mandatory Nigerian NYSC one-year service, I figured that if I wanted to build all the ideas I had, I needed to learn how to code.
After service, I quit a job that was supposed to pay me about 120k in Abuja because I knew that wasn't what I wanted. I relocated to Lagos and started learning how to code. I wrote my first lines of code in April 2017.
Linda: Were you learning how to code yourself, or was it with a supervised program?
William: Nah, I learned on my own using Freecodecamp and CodeCademy. Then I started writing about what I was learning on medium: React, static site generators, e.t.c. I also started travelling around Nigeria on my own budget to talk about these things.
Linda: You were being invited to conferences to give talks?
William: Yeah. And, if you don't invite me, I will invite myself. There were times I travelled to Kenya, Uganda, etc., to talk at meet-ups there.
Linda: Did you have a full-time job while doing all these?
William:  No
Linda: So, how were you making money then?
William: I had saved 200k from when I was in Abuja and was supposed to pay myself 30K for like 6 months till I got an internship at HNG — that was my plan.
But, I went faster than that. I started writing articles for scotch.io, and I was paid 30k per article.
After a while, because of my relationship with Chris (the creator of scotch.io), I got a more committed gig as like a developer advocate. This paid about $400. I was writing articles, reviewing articles from other writers, managing the developer newsletter, and doing a bit of developer marketing.
I was also volunteering at Forloop Africa. I would volunteer to host meet-ups in different places. Ridwan (one of the founders of Forloop) would give me money to host the meet-up and some extra for transportation.
Volunteering played a significant role in my life. I would volunteer for anything knowing that I would not be paid. Volunteering has the effect of making others feel as if they owe you. And if you're building up your career, you need stuff like that. That's how you get influential people to notice you.
In 2018, I decided I was going to get a full-time job. So, I joined Andela.
Linda: What was your job title?
William: It was Talent Partnership Associate.
Linda: What did the job entail?
William: It was to manage the Andela Learning Community(ALC). I was paid about 150 thousand naira. I took the job because I just wanted to work structured organization, which was something I'd never had.
I kept travelling, and everywhere I went, I'd find meet-ups and give talks. In 2019, I travelled to the US. One of the benefits of my Andela job was a US visa, so I decided to make use of it. While there, I did like a tech tour thing. I spoke about jamstack and African tech communities at several meet-ups. All of this earned me some social capital and credibility, which proved useful later.
After the tech tour, I came back to Nigeria and decided that I would quit my job at Andela. I left without having another job.
Linda: Hmmm. What did you do after that?
William: I started doing random stuff; I took a side gig to build a website for someone in France, did some open-source maintenance for Gatsby, and wrote more articles for scotch.io. I was paid $200 per post, and I was content with it because it was enough for me to get by.
After a while, I decided that I would find something else to do. But first, I wanted to visit Dubai.
So, a couple of friends and I went to Dubai. I met a number of people who were already familiar with me due to all the travelling and talking I'd done. One of them was Meabed, an Egyptian who would later become my manager.
When I returned to Nigeria, I started Dentry.
Linda: What is Dentry?
William: Dentry is a job board for beginner techies. Many beginners find it hard to get jobs. Still, there are opportunities like internships, boot camps, free programs, and entry-level jobs. I decided to build a simple job board in one weekend and just post entry-level opportunities that I come across there. Now, I've employed someone else to work on it. Basically, the person searches for entry-level jobs and puts them on Dentry.  
While working on Dentry, Chris called me to ask if I remembered Meabed from Dubai. He said Mebech needed a technical product manager to lead a team of engineers to build an online grocery platform and asked if I was interested. I told him that I am not a product manager, but I've done many things, and product management shouldn't be the most difficult.
Linda: So how did you convince them to hire you as a product manager then?
William: I called Mustapha Garuba, who used to be a product manager at Andela, and asked him to tell me everything about product management and what he does on a daily basis. I also read a book called "Escape the Build Trap" by Melissa Perri, watched a YouTube video on product management, and that was it. I became a product manager. **laughs**
I had my interview with Mebech. He explained the idea, then asked for my opinion, and I sold him the future of groceries. And the rest was history.
The job required that I relocate to Dubai. At first, I wasn't sure. You see, I wanted to build the future of tech in Africa. But, I was going through this breakup at that time, so I finally decided to leave the country and get a fresh start.
Linda: I've heard that breakups can propel people to greatness
William: Yeah. I moved to Dubai with two friends, John and Emmanuel, who I hired as software engineers. We worked for like 16-18 hours a day because we were building a startup from scratch, and we did it for months until the pandemic came in 2020.
Sometime during the pandemic, the company folded, and I decided to get a job and move to Norway. The thing nobody prepares you for with applications is the rejections. I was applying to almost 30 jobs every day and was getting rejected left, right and center.
Finally, after applying to about 250 jobs, I got an interview. They wanted a technical product manager that would be in charge of partner integrations. I looked at the job description, and it matched with everything I did. I was going to be helping build plugins, handle documentation, and speaking to external stakeholders.
I started the job in April 2021, and was working remotely from Dubai. By the way, I feel everyone should work with European companies once in their lifetime because things are so chill. Your dog can be sick, and you'll be allowed to take the day off. As soon as travel restrictions was lifted, I packed my bags, sold my things, and took a one-way ticket to Oslo.
Linda: So when did Hackmamba come into the picture?
William: It was during the time that the startup folded. I was writing a lot of technical articles. I noticed that there were a lot of companies that needed technical writers but couldn't find many at the level of writing expertise they required. I started Hackmamaba to fill that gap.
At Hackmamba, we see technical content as a product — that's our mantra. We focus on the users and also the business. People often write content for the users, and they do not think about the business. But it is the business that pays for the content. Therefore, there should be a business objective to every content. It could be marketing, or they want to offset a feature or something else.
Our first clients were Cloudinary. I was already consulting for them, so I told them to now see me as a company they would be contracting.
Our promise to our clients is that any content that comes through us will be of the best quality. We have four steps of review: peer reviews, internal reviews, external reviews, and then there's me, the final boss whose job is to tear down the article. We also make use of Grammarly premium. That way, we consistently create great content, and the authors get to learn a lot.
At Hackmamba, we're a community of people with shared interests. My goal is for everybody to leave better than they came. We're not just about creating content for our clients; we also share opportunities with our writers. We have a channel where we share developer advocate jobs, technical writing jobs, e.t.c. I spend time reviewing the content they use to apply to these jobs, providing advice on negotiating salaries, and giving them hacks to update their LinkedIn profile.
So I have been running Hackmamba, working full-time as a product manager, building a startup with my friend Chike, and running Dentry as well.
Linda: As a contracting organization, how do you recruit clients and convince organizations that what you have to offer them is valuable?
William: I have like a shortlist from LinkedIn where I find potential companies. I use the strategy I've always used: I reach out and offer to do something for free. I would do it really well so that they'll see the value, then I'll charge for the next thing.
Linda: How do you hire and vet technical writers for Hackmamba?
William: I periodically put out a form for people who want to join Hackmamba as an author. My requirements are that they have at least two years of technical experience and samples of content they've written to ensure that they can write. I know they won't be the best technical writers out there. But they learn and become better from peer-review sessions from myself and others.
Linda: What hacks or advice would you give to tech writers who want to build their careers around freelancing?
William:  I would say someone starting out should learn to sell. Find a book on sales, read it. Also, learn to make friends with people you want to work with, and offer to help them. This could be with the developer advocates, the content marketer, or what have you.
Linda: What do you mean, become friends with them?
William: I mean find them (although it sounds creepy), do free stuff for them, and share it with them. Everyone likes free stuff, and it's an opportunity to show what you can offer… like snippets.
So for me, I tell the content marketer I want to work with that I can help them amplify whatever they create using my Twitter platform, where I have quite some reputation and social capital. I also tell them that they can send anything they make my way, and I'll help them review it.
I sometimes write articles for companies that I want to work with without paying me. Most times, they do not even know who I am. My job with that free article is to encourage some sort of business metric like conversion or sign-ups. So I'll write the article and then add UTM parameters with Hackmamaba as the UTM source.
That way, the analytic software used by that company will capture that parameter anytime anyone clicks that link. You get to show up on their analytics dashboard, and they'll be seeing links from a campaign they didn't even pay for. If the article gains so much traction, they may reach out to you.

Organizations have a much larger content marketing budget than most people realize. So as a freelancer, you can write a teaser post about a company. When someone from the company reaches out to you, just be nice and friendly, don't talk about money until the very end. Tell them how you will provide value. After that, you can now ask what their budget is. They might most likely not commit to anything yet, but it's an entry point for you, whatever the outcome might be.
Linda: How would you say technical writing has impacted your career?
William: Hmmm… I think I wouldn't be where I am now if it wasn't for technical writing. As I said, I initially started out as a software engineer, but then I found technical writing, and it does two things: it validates and amplifies my skills.
---
And that's all from William. If you'd like to connect with william, reach out to him on Twitter.

You can also read other episodes of The Tech Content Creator series here.
Lastly, you can also read the article on freelance technical writing to learn more about how to build up your technical writing portfolio and earn some cool bucks at the same time.