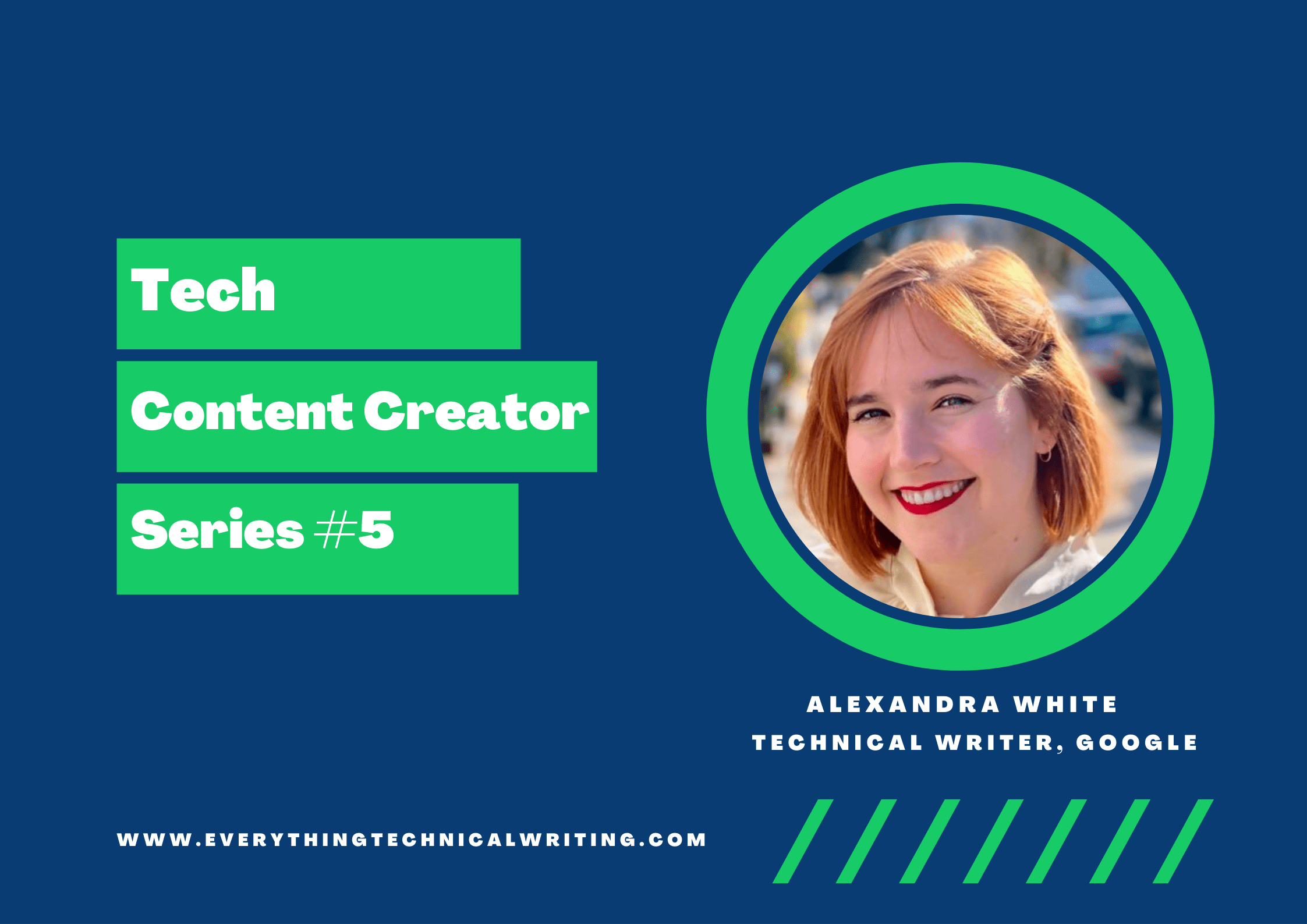 The Tech Content Creator Series is a monthly interview series in which I chat with people in technical content creation roles (technical writers, documentation engineers, developer advocates, and what have you) about their careers. My hope is for their stories to impact, inspire, and motivate you.
For this month, my guest was Alexandra White. Alexandra is a technical writer for Google Chrome, where she writes documentation for Privacy Sandbox. She also co-chairs the documentation accessibility working group and has given several talks on documentation.
In this episode, we chat about her journey into technical writing, what she does as a technical writer at Google, and the interview process for a technical writing role at Google. Enjoy!
Me: How did you get into technical writing?
Alexandra: I got into technical writing through a series of connected choices. I studied professional writing at Michigan State University, where one could either focus on book publishing, non-profit grant writing, or digital and technical writing. I chose digital and technical writing.
However, most of my technical writing classes were so boring that I wondered why anyone would ever want to be a technical writer. As a result, I decided I would become a social media marketer when I left school; I would write tweets for a living, and it would be fun. I applied to over 60 jobs before I finally got one. Quickly after I started a social media role, I realized that it bored me to death.
While I was at university, I was also taught how to code and build WordPress themes. So one day, I asked my boss if it was okay if I built our websites, in addition to handling social media. He gave me the go-ahead. I discovered I enjoyed building websites much more than writing social content, so as a result, I decided to pursue web development full-time.
I found a new job as a web developer, where we were tasked with maintaining websites built as far back as 1998 as well as modern websites, and we had no documentation of any kind. Whenever I had to fix an old website, I would consult the person who built it to find out where specific files were, what I needed to know to ensure that the website wouldn't break, and whether it had any dependencies. This process was really frustrating, so I launched a technical blog to convince my colleagues to write docs.
I applied for a scholarship to attend O'Reilly's Velocity conference, where I did my best to network. I met an engineer, to whom I lamented about my documentation frustrations. I told him about the blog and my mission to get better documentation. In response, he asked me if iI would consider writing documentation full-time.
I thought back to my boring college classes, and really considered what it would mean to leave engineering. Ultimately, he and my soon-to-be boss convinced me it was a worthwhile challenge. I applied for and accepted the job as Joyent's Documentation Editor. I knew almost nothing about cloud services and back-end development when I started.Knowing nothing was very beneficial for that job because I could ask what some may have considered 'stupid' questions, which helped me translate very technical engineering language into human-friendly language.
Me: How did you land this job at the cloud company?
Alexandra:  It turned out the person I was talking to at that conference worked at Joyent and his team recently decided they would hire a technical writer. He connected me with the hiring manager, I submitted an application, got interviewed, and landed the job.
As a reminder, networking, reaching out to people, going to places where people are, and talking about yourself can create opportunities. This is especially hard in the pandemic, but I strongly recommend seeking out conferences and scholarships if needed. You never know what opportunities could come from the people you meet.
Me: You work at Google now. What department do you work in, and what are your responsibilities?
Alexandra: When I joined Google in December 2018, I started out as a technical writer for the Google Ad Manager Help Center. Google Ad Manager is a corporate enterprise product that helps publishers such as news websites, retailers, etc., monetize their websites. My role was to write user-facing documentation to help our users learn about ad bidding and delivery.
I did that for over two and a half years before seeking other internal opportunities. The great thing about Google is that there are actually dozens of exciting small projects or big projects inside one gigantic corporation.
In October 2021, I switched positions at Google. Now, I work for Google Chrome on the developer relations team. Here, my job is to write documentation for the Privacy Sandbox. The Privacy Sandbox is a series of proposals to
protect people's privacy online, while giving companies and developers tools to build thriving digital businesses.
Me: What was the interview process for Google like? And what are some things you did to stand out (if any)?
Alexandra: I honestly never thought I'd work at Google. I thought that my education wasn't good enough and that since my job experience was mostly at small companies, Google wouldn't care. However, since joining, I've met so many other people who felt the same way.
I initially applied for a developer advocate job because I missed (and still miss) web development. I believe the recruiter for that position gave my resume to a technical writer recruiter because of my experience at Joyent. The technical writer recruiter contacted me to ask if I would consider a technical writing position instead.
I had a phone interview with the recruiter, who then asked for me to submit writing samples. Then, a committee reviewed my writing samples and thought I had the needed skill set. Following that, I was invited to a series of interviews to put my technical writing skills to the test.
I was interviewed by 5 Google employees; 3 technical writers, 1 technical writing manager, and 1 engineer. I was asked about my writing process, best practices, and about my various employment experiences listed on my resume. Then the engineer asked me to write some code on a whiteboard to build something and explain the code.
Other technical writers at Google have told me that's uncommon for this interview process. I assume the engineer asked because my resume mentioned that I knew how to write code. As technical writers, our job is not to write the code, but to explain it.
After all the interviews, I was told they'll get back to me in a week. In total, the process took 13 months: I applied in November 2017 and joined in December 2018.
Me: Why did the interview process take so long? Is that duration standard?
Alexandra: No. My situation was a rare occurrence. The average interview process here is two to three months, and they are trying to speed it up even more.
At Google, after an interview, performance notes are sent to a hiring committee, which decides whether or not to hire. If the committee decides to hire someone, they also determine what level to hire the person at based on their experience. By the time the committee made an affirmative decision on my application, the job opening I had applied for had been filled. The good thing is, when interviewing at Google, you're not necessarily being interviewed for one specific position but for a broad position type. I was being interviewed for technical writer roles.
So, seeing that the specific role I applied for had been filled, the recruiter reached out to me to make me an offer for a different position. I was so delighted that I was considered good enough, but the position was offered at a salary which was lower than my salary at Joyent. I told the recruiter that I really wanted to work with them, but they needed to meet my salary expectations. Also, the role required me to move to California, but I didn't want to move away from New York. The recruiter told me they'll think about it and also keep me in mind for future opportunities. One thing about Google is that if they think you are good enough, they will do whatever it takes to make things work.
In September of 2018, while I was interviewing for other positions, the recruiters returned, asking if I was interested in another opportunity. I was asked to submit one more writing sample and interview with a new hiring manager.
For my writing sample, I did something which I would encourage every applicant to do. I took a blog post that I wrote a few years ago and applied a style guide to it. I submitted the old blog post (without the style guide application) and the new one (with the style guide applied). I also submitted a document detailing all the changes I made and why those changes were necessary.
As I was told by my to-be manager, that singular submission was what sold me to them and moved my level up so that I could be paid the salary that I asked for. They were so excited to see that I could follow a style guide and could explain why it mattered.
Me: Were you specifically asked to submit a style-guide formatted blog post?
Alexandra: No, that was entirely my idea. I wanted to impress them. I was asked to submit whatever I thought was my best piece of writing.
Alongside the style guide documents, I also submitted other docs because I knew it was important to present different kinds of writing. I submitted one API reference doc, a technical blog post, and video documentation.
Me: Based on your application experience, what tips can you give prospective applicants?
Alexandra: My first tip would be to use the exact verbs used in the job posting on your resume. The second tip is to use as many metrics as possible on your resume because recruiters want to see how you made a difference in your previous roles. And the third tip would be to curate a solid technical writing portfolio.
Also, somebody recently asked me what to do if they want to be a technical writer but don't have any writing samples. My answer is to create documentation for an open-source project. Go to GitHub, look at projects, and see if you can write documentation for any. Another way is to write sample documentation for very popular products. For example, you could write instructions for setting up filters in Gmail.
It's important to note, this is advice based on personal experience. However, I am not speaking as a representative of Google. Following my advice is not a guarantee for an interview or a job at Google.
Me: Still on Google. Do you think your writing degree gave you an edge? Does Google place priority on writing degrees for technical writing roles?
Alexandra: They encourage people to have a writing-related degree. That said, while I was on the Ad Manager team, three of seven writers had degrees in technical or professional writing, and the other four didn't.
One person had a Literature in English degree, another person had a computer science degree, and the others had journalism degrees. If you don't have a writing degree, there are a number of certifications out there that you can take.
Google has created some technical writing courses. However, like my other advice on writing samples, this doesn't constitute a job guarantee. I think they're awesome resources but they are not the same as other formal education.
Me: I found you through one of your talks which you delivered excellently. So, for people who want to give talks, do you have any tips for speaking at conferences and finding conferences to speak at?
Alexandra: Years ago, I decided that I wanted to travel the world and have somebody else pay for it. I found that the best way to do that is to speak at conferences. I always look for conferences that pay for flights and hotels.
I found the Write The Docs conference by searching for technical writing conferences. I saw that there was one happening in Portland, Oregon, so I asked for permission from my company to attend.
The first talk was given by a woman named Kat King, who was a developer education manager at Twillo. The talk was so inspiring to me. I told myself I wanted to be able to make other writers feel the way she made me feel — like I could be better.
I decided that I would apply to speak at the next Write The Docs conference, which was going to be in Prague. I started thinking to myself, what am I working on that people would find valuable? That's how I came up with the talk on tearing down your documentation.
When creating a conference talk, the most important thing to focus on is what people will walk away with and how they can accomplish a goal. Don't just say "here are five things you need to do"; tell how you did it and walk them through the process.
To find calls for papers requests, there are a bunch of different websites I use: CallbackWomen on Twitter, CFP land, e.t.c.
A low-pressure way to get used to giving talks is to start with local meetups and virtual talks.
Me: For your talk on tearing down documentation, I noticed you had little note cards that you read from. Nice Strategy.
Alexandra: Yes, and I think more people should do that. That was the first talk I gave. I wrote all of my notes on note cards because I couldn't memorize my entire talk. Although I started my higher education in the theater school, I have never been good at memorizing.
Since then, I haven't used note cards, but I write everything on my speaker notes and sometimes read it word-for-word. Some people can just write bullet points in their speaker notes and talk extemporaneously. I can't do that, so I use my notes to keep me on track.
There, I just told you my secret, and now everyone will know too :)
Me: Do you have any final words of advice for anyone trying to get into technical writing?
Alexandra: I'd say anyone can be a technical writer. Interestingly, there's a lot of focus on STEM, but writing is actually the foundation of every career.
In addition, you should know it takes practice to get good at it. Everyone can do it if they take the time to practice writing and consult style guides. Every day I look at other writers' documentation and think, "Wow, that was such a succinct way of writing that".
Me: Do you have any style guides you would recommend?
Alexandra: I have to mention the Google developer documentation style guide. It's a constantly evolving document. Also, I think the Chicago Manual of Style is what most of the writers on my team refer to when not looking at our developer style guide.
Me: Last question, tell me a fun fact about you unrelated to work or your career.
Alexandra: I started my education studying theatre (P.S I love theatre). And, when I got to New York, I made friends with people who ran a small theatre company called The Dirty Blondes. They asked me if I would be a stage manager. So after my work hours, I would then go to rehearsal.
The last show I worked on was performed at the New York International Fringe Festival. It was a 45-minute one-act play, and we were selected among 10 other shows to go on Broadway. It was so cool.
---
That's all from Alexandra. If you'd like to connect with Alexandra, reach out to her on Twitter, and check out some of her talks.
You can also read other episodes of The Tech Content Creator series here.